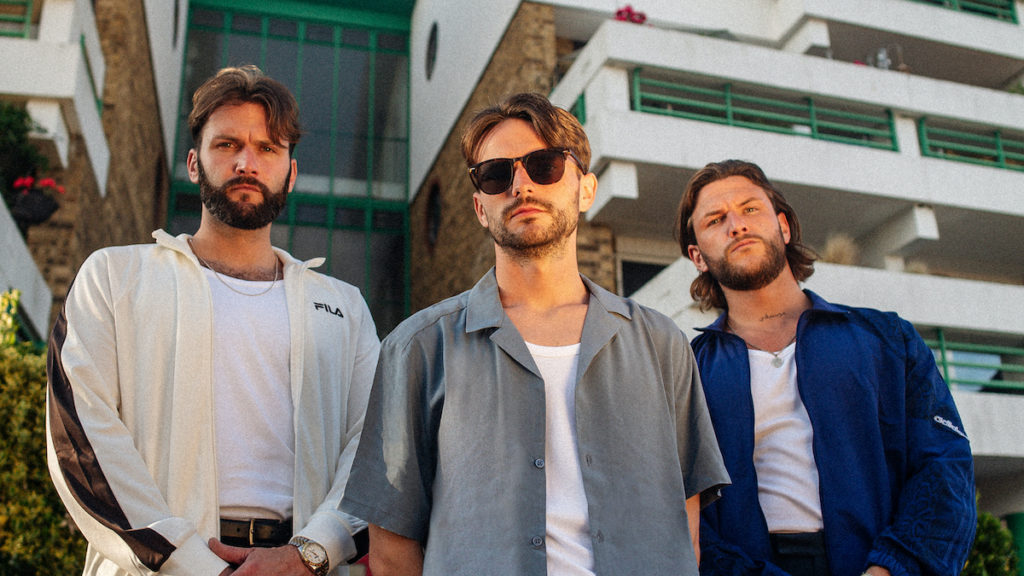 Rayowa is a 3-piece band from the UK, who toured accross music festivals this summer and have just released their EP "Believe". A perfect opportunity to catch up with them to know more about their story, their live band, and future projects!
To begin, can you introduce yourselves? How did the project Rayowa begin?
Hi, we're Rayowa, a funk/souk/disco band. We are three brothers, Dan, Reece and Luke Baker from Basildon, Essex. Rayowa began out of the break-up of an old band we were in. We were on a tour just before we split up and Reece played the early demo of what was to be our first single, 'Better Man', in the tour bus and everybody was really excited by it. When the previous band finally ended, Dan and Reece decided to start a new project and Rayowa was born. Luke joined us a little later to become the lead singer. He'd never sung in a band before Rayowa.
You are 3 brothers, did you grow up in a family with a music background?
We didn't grow up with anybody that was particularly musical in our family but our parents and grandparents are massive fans of music, so we've always been around good music. Our Mums always played an array of RnB/Funk/Soul and Disco and our Dad played a lot of 80's pop and guitar bands growing up so that's definitely where our keen interest and passion in music came from.
When listening to your music, we thought it could be described as "Jungle's vocals meets CHIC's groove". Did they influence you? How would you describe your music in 3 words?
Chic have definitely been an influence on us. Nile Rodgers has written a lot of the defining records in that genre. His and Bernard Edwards sound was significant and inspired a lot of artists of that era. Vocally, we are influenced by the group style chant vocal of bands like Chic, Change, SOS Band and Brothers Johnson. Falsetto was also used a lot in that era, groups like Earth Wind and Fire did this brilliantly. In three words, we would describe our music as soulful, uplifting and honest.
Your new EP "encompasses the message of keeping the faith". Did you take inspiration from some personal stories?
Yeah, we definitely leant on our experiences through the pandemic and beyond. We were all in our late 20's at the time, and it seems quite common at this age you do a lot of soul searching, go on a journey of self-discovery, learn about yourself and working towards healing from past traumas. This most definitely influenced the songs lyrically.
What does your creative process look like? Do you each have a specific role, and in which order is it done? (do you write lyrics first, or compose the melody first…)
?
Generally, the chord progression and groove is written first, then the melody and finally lyrics. Rayowa records tend to follow a fairly similar formula in how they are created: Reece writes the records then the rest of the band come and record their parts. Reece then finishes the production. Us as brothers have our own roles, Reece takes care of the music, Dan takes care of what you see visually and Luke is the frontman.
You've just toured at summer festivals, what's your best memory from there?
There's probably too many to mention, we had an incredible summer this year and got to share the stage with acts like Nile Rodgers & Chic, Odyssey, Diana Ross and many more. We've been huge fans of these for years and shared memories many listening to their music… A significant moment was watching Chic after supporting them with our Mum and Dad, and Grandad. It was his first time seeing us play live. Everyone from the band, our partners, our parents and friends together watching Chic dancing cuddling and singing. It was such a pure moment full of love and joy.
You are a 9-piece live band, can you briefly introduce how it's composed?
There's Luke on vocals, Dan and Reece on guitar, keys and backing vocals. Peter Anderson on bass, Nico Ariza on drums, Mike Anderson on Percussion, Darnell and Jasmine Duxbury on backing vocals and Dave Mather on Trumpet.

We wanted our live show to look and feel like the classic bands we are influenced in terms of loads of people on stage together and the energy that creates. We wanted it to be a really authentic experience and if we only played live as the three of us we wouldn't do the music justice in the same way as with a live band full of really brilliant musicians that we are blessed to be able to work with.
What are your projects for next year? (releases, tour). After your EPs, can we expect an album?
On December 1st, we are playing a headline show at Chats Palace, London to celebrate the release of this EP. Tickets can be bought here.
Without a doubt, we'll be touring/playing lots of shows next year. We're currently finishing our third EP which we're all really excited about. It feels the most realised of anything that's we've made so far. After EP 3, it probably will feel about the right time to make an album.
To conclude, any fun facts you've never revealed before?
Before Rayowa, we were in a band called Courts. Musically it was a blend of hip/hop, funk, indie & grime we all had long hair and wore tracksuits… yeah, sounds weird we know!
Follow Rayowa on: Spotify | Facebook | Instagram | Soundcloud