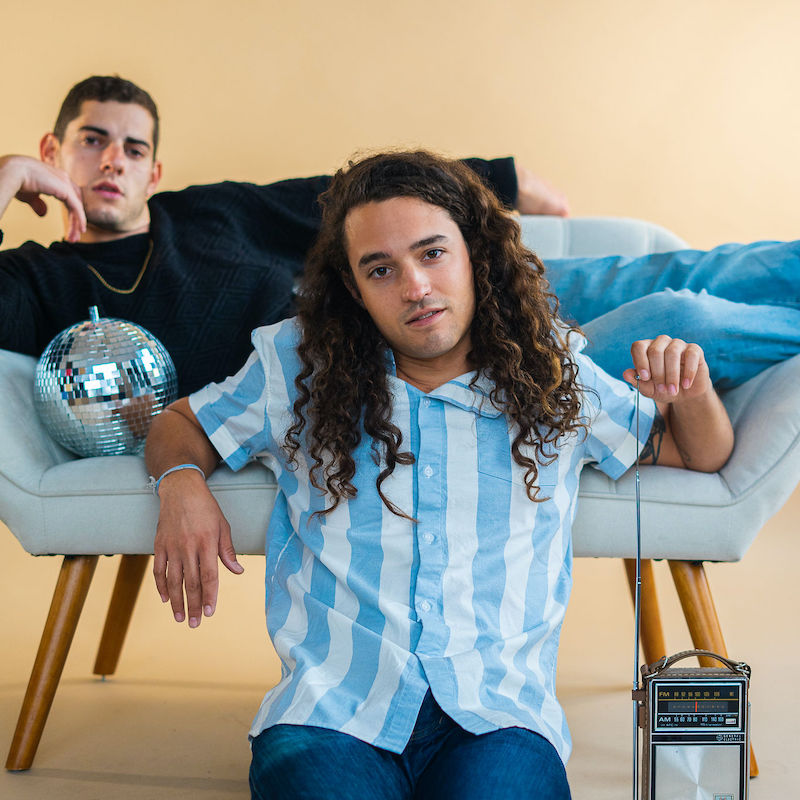 Since we first listened to their music, Supertaste quickly became one of our favorite upcoming artists. If you're listening to our DYLTS Weekly Playlist, you probably already heard one of their tracks. The duo shares a love for deli sandwiches and disco, and started this project after an impromptu B2B set. We talked with them about their latest EP, their creative process, their hobbies and more!
To begin, can you introduce yourselves? How did the project Supertaste begin?
We are Zach Britt & Lucas Feigenbaum. It all started with an impromptu B2B set at a show I (Zach) was throwing in Brooklyn. We realized we each had a lot of music the other didn't, and complimented each other well. That lead to 2+ years of throwing our own DJ parties around town, playing our way through the NYC club circuit, and finally (after two years) sat down and made some music. We wanted to make a combination of the indie side of Zach's music (Hundreds Thousands) and the disco-house side of Lucas's (Slug Father). After a trash bin full of crumpled up ideas, we wrote something we were proud of, and, against the backdrop of a global pandemic, we released our first tunes in June of 2020.
How would you describe your music in 3 words?
Energetic, dancey, emotional (OR: Oh hell yeaaaaaa)
Can you talk about the production process of your EP? Why did you decide to move in the woods?
Song to song our production process varies. Some days Zach will come in with a keys line, somedays a vocal melody – some days Lucas will come with an entire song structured out with only drums. We definitely draw an immense amount of inspiration from the dance floors we've missed for the past year and a half now.
The hiatus in the woods was what we decided was our deep breath of fresh creative air. We needed a pallet cleanser and a quiet place to create and focus. It was an interesting process to write songs about dance floor dreams while staring out over the Cherokee National Forest, but we feel like it was exactly what we needed in that moment. And we feel, in many ways, it worked exactly how we wanted it to 🙂
How does it feel like to be able to finally play gigs? Do you plan live shows in the future?
GOOD LORD HOW WE'VE MISSED LIVE SHOWS. It feels so so so good to be behind the decks again – jamming with a bunch of brand new friendly faces into the abyss of a New York night. We've been slowly but surely rolling out our live renditions of our music, which has been an incredible process, and has been very fun to do in such a vulnerable public way… in front of people for the first time ever.
What are your projects for the coming months?
We're working on some new merchandise, some very fun collaborations and remixes, a collaboration coffee roast with an epic new Brooklyn-based roaster, and of course, SHOWS. Definitely stay tuned on our socials for more info!

What are your top 3 songs at the moment?
Can you tell us more about your recent mix for Kitsuné? What's the idea behind and how did you select the tracks?
This was a really fun challenge – we were basically given the opportunity to create a mix using the recent Kitsune releases. Generally, we would have 30hrs+ worth of music to select from for a mix, but for this hour-long mix, we had about 2hrs worth of music. So strategically mixing them in and out was a really enjoyable experiment in our mixing abilities!
Apart from music, what are your favorite hobbies?
Zach plays the fiddle and Lucas does a mean impression of the "Damn son, where'd you find this?" trap mixtape voice.
We both cook a lot together and are interested in doing some sort of dinner hosting experience or a show hosting experience related to food.
Follow Supertaste on: Spotify | Facebook | Instagram | Soundcloud