Eskimo Recordings, founded in 2000 in Belgium, is one of our favorite labels. When we started the blog, their compilation "In Flight Entertainment" curated by Aeroplane made us discover artists such as Poolside, Oliver, James Curd, Drop Out Orchestra… Since then, the label has released several EPs, albums and compilations, always surprising us and making us discover quality music.
Eskimo Recordings has kicked off 2018 with a new compilation from their Colour Collection series, "The Purple Collection". That was the perfect time to talk with their label manager Captain E, to know more about their history, approach and vision for the future.
How and when did the label Eskimo Recordings start?

Eskimo Recordings was created in 2000 and was named after the "Eskimo parties", that had started in 1998 in Ghent, Belgium. The Eskimo factory -yes, the one from the underwear- was the venue for these eclectic parties, which was a new thing back then. These underground parties got famous for mixing synth-pop, new wave, acid house, funk and rock 'n' roll into a new and fresh and eclectic sound. Behind the decks you could find The Flying/Fucking Dewaele Brothers (they went on to become 2manydjs), TLP and Mo & Benoelie (The Glimmer Twins). People wanted to be able to listen to the soundtrack of these parties at home -this was before Soundcloud and Mixcloud- and so, the label was born. First releases on Eskimo were mix cd's that reflected the eclectic sound of those early days parties. In 2002, Eskimo started signing and releasing original music as well. First artist album was 'Mangled' by Ray Mang, latest one was 'Panorama Pacifico' by Satin Jackets.
People wanted to be able to listen to the soundtrack of these parties at home and so, the label was born.
Eskimo Recordings is one of the leading labels for nu-disco. What do you think about the evolutions of this scene?
I think nowadays 'indie dance' in all its forms and colours might be a more accurate description when looking for just one term to label the music Eskimo puts out, it reflects the eclectic nature of the label. Nu-disco is definitely one of the indie dance sub genres we love to release, and when we do this, we try to release only the very best the scene has to offer. I'm not sure how I would describe the evolution of this scene though, all I know is that there's this one rule in the indie world: if a genre pops up from the underground and gets popular -nu disco, house, techno, you name it- it will appear on the radar of the 'not so indie world' and the genre might get hijacked for a minute there. Until it's time for the next trending genre.
'Indie dance' in all its forms and colours reflects the eclectic nature of the label.
So, some artists and labels who were operating in the nu-disco scene are still doing their thing, others went for another musical direction, or aimed at scoring a few crossover hits. Whatever option they went for, I hope it was a successful thing for them to do! Happy to hear you see Eskimo as one of the leading labels of the scene, as there's so much music being released every single day and we try to make a difference.
The label established itself as a timeless one, not depending on the music trends. How do you explain this long-term success?
'Timeless' and 'quality' have always been key words indeed. Someone once said the music Eskimo brings forth into the world "all maintains a certain feeling without being beholden to any rigid formula". Which is true, we have always approached the divide between electronic and indie music with a reckless abandon that suggests that there is no divide at all. That's why I believe Eskimo holds a unique stake within the indie dance world, whether you're listening to a collection of great music by new and talented artists, a compilation curated by a musical authority, full of hard to find music, a 12" club release or a radio friendly nu-disco song that pleases lots of listeners on streaming platforms.
One of the keys to a long-term success, I believe, is to keep surprising people
One of the keys to a long-term success, I believe, is to keep surprising people. Before getting involved in Eskimo I was a music programmer at a national radio station in Belgium. I had a focus on dance music, but followed, listened and played every single genre out there, as long as I felt it was good music – whatever that means. On a very personal level this experience helps a lot when people ask you to judge their new music. Another thing: Eskimo Recordings is one of the many labels that operates under the flag of the independent record company N.E.W.S. records, based in Ghent, Belgium. We work with labels like Token, Olsen, sdban, Lost&Found, International Feel, unday and many more, so we operate in techno, jazz, funk, house, singer/songwriter, new beat, progressive etc. etc. This melting pot of different genres under one roof -and me being in the middle of it- makes it easier to spot what tomorrow's music scene will or might sound like, and anticipate to that. Of course, music isn't an exact science, but that's exactly what keeps things interesting, right? In short, I'm in a fortunate position to spot upcoming musical trends at an early moment.
How do you usually discover new artists signed to the label?
We have a short list of resident artists, like Satin Jackets, NTEIBINT, Atella, Aeroplane, Blende, Horixon. If we like what we hear from "other" artists -who are often introduced by mutual musical friends- we include them on a collection and/or put out a single. If we both (!) like the way it's going, we take a look at the next step. And yes, every once in a while, I actually listen to some demos, if the accompanying text has "THIS IS ESKIMO!" written all over it. I don't expect a detailed essay, but it's good to do some homework. Listen to the music we release, see if it's a match with anything we do and make sure to mention that in your message. Make the way you approach us stand out somehow. Try to be a little different, or find a good way 'in'. Guess this counts for every label working with a lot of different artists in fact.
What were some milestones of the Eskimo Recordings journey?
The Colour Collection series, as it's a showcase and mix of upcoming and talented acts Eskimo believes in and wants to support. The list of 'Collection' artists includes names like Moscoman, Freeform Five & Roisin Murphy, Eelke Kleijn, Anoraak, Marvin & Guy, James Curd, Turbotito, ARY, Zombies In Miami and many more.
Obviously the debut albums of Lindstrom & Prins Thomas, Aeroplane and Satin Jackets. Cosmic Balearic Beats! All music by our resident artists, I love every single release of them. Last but not least: the early days mixes from The Glimmers, Optimo, Rub N Tug that put Eskimo on the map, and the more recent much-lauded compilations by Prins Thomas (Paradise Goulash), Psychemagik (Ritual Chants) and Bill Brewster's Tribal Rites. Essential stuff, milestones indeed!
"The Purple Collection" is the 7th compilation of your colour series. Can you tell us more about this edition?
It's exactly what it says on the tin: with the release of 'The Purple Collection' we take a look at the future. Every collection provides an essential snapshot into today's electronic music scene, covering everything from underground house & disco to sparkling electronica and leftfield pop. When selecting the tracks for a collection, we want to bring a musical story while taking you on a trip around the world. The world of Eskimo, but also around the world, in a very literal sense. On 'The Purple Collection' for instance, there's artists from Mexico, Norway, France, Russia, Greece, Turkey, Canada… By putting all this music together, in the right order, we aim at creating an album feel – even though the albums consists of 14 different artists with their very own identity.
Visual art is an essential part of this series and all of your releases. What is your approach to create the right design for each release?
We care a lot about how a release (and the label in general) looks. Again, it makes a difference. That's why we say 'no' to generic sleeves and artwork, on both physical and digital releases. It's all in the hands of our graphic designer Jason Marc Wood, who's based in Adelaide. You should definitely follow his work on Instagram! For this series, he's also the one making suggestions for the photograph that will end up on the cover of each chapter of The Colour Collection – after which we reach out to the original photographer and hope we can make a little deal on the 'usage' of the picture. We had Gonzalo Lebrija on Yellow, Julia Baier on Red and Ken Hermann on Purple. Linda Linko, based in Helsinki, came up with the original 'colour' concept and set the tone with Pink and Blue.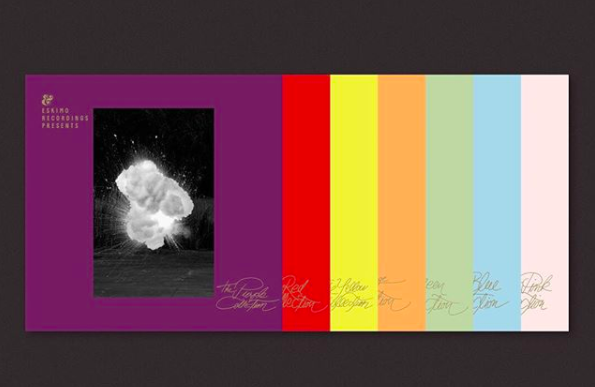 Eskimo has worked with a lot of great designers in the past! To celebrate our 10th anniversary, there was the 'Eskimonde' 5cd box that came with a poster showing all the artwork of the selected releases. You can find that retrospective overview on Facebook as well, and some more artwork of the first decade. We should publish a book soon!
Digital made the music industry evolve significantly since the label launch. How did these evolutions impact the label and how did you adapt to it?
A lot has changed in music over the past 15 or 20 years, also on the digital side. There's the world wide web and all the aberrations created by the social media of course, but there was also the birth of an electronic music scene as such in the US for instance (managers, bookers, festivals, clubs, boom!), and the way 'numbers' started to matter. Not only talking about the amount of likes and followers a certain artist has, but also about the effect it seems to have on not only the newest generation. Sometimes it even feels like they tend to be more attracted to music or songs that 'have a lot of plays', and to artists with a big following. By now it's safe to say so that a lot of music lovers anno 2018 approach music in a very different way than they used to. The answer to the impact and adaptation question? Every release needs a different approach. So that's what we do.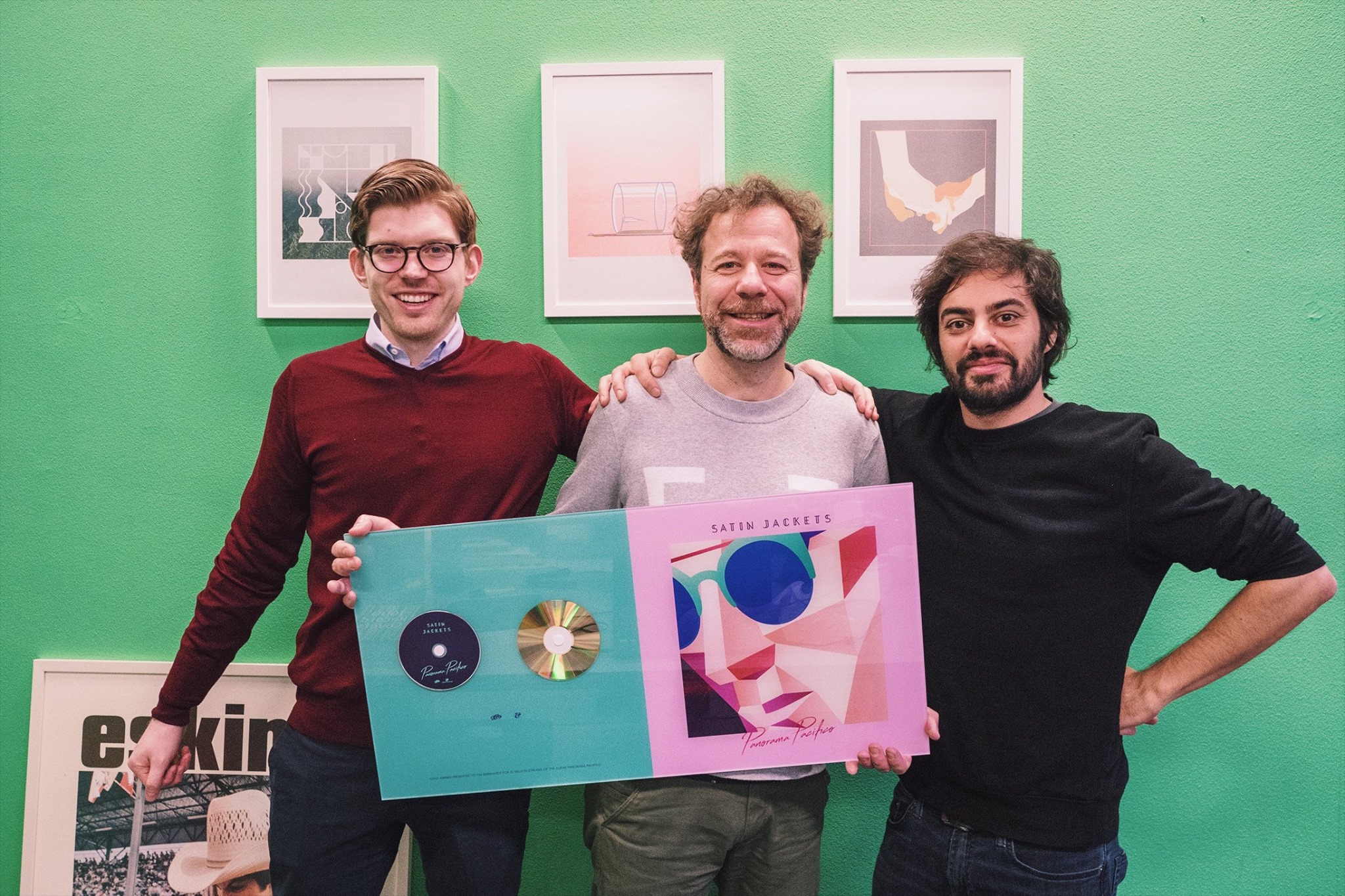 It takes much more time than before, nowadays it's about getting heard in the first place and reaching the audience you have in mind when signing a track. This is partly the answer to how we adapt to the digital revolution too. Next to that, it's also by doing the mix of indie dance sub genres I described earlier. For a techno label it makes sense to sign and release only techno, grow in the meantime, until that particular genre is peaking, at which point you can benefit as a techno label.
The musical variation you can hear on different releases keeps things interesting, in my opinion.
I prefer a more eclectic approach. In a way, if you hear a new release on Eskimo, you never know 100% sure how it's going to sound. Some music does well on radio or with fashion or sync people, other music does well on the dance floor or with record diggers. To be clear: I'm not saying doing one genre is boring at all, but it's not how I like to do things. The musical variation you can hear on different releases keeps things interesting, in my opinion. It's not really the easy way of bringing music to the right taste makers, so we have to work hard on every release in order to achieve that, but in the end, good music always wins.
What can we expect from the label this year?
Let us surprise you with that!
Thanks a lot to Captain E for taking the time to answer our questions! Follow the label online to keep up to date with their next releases: