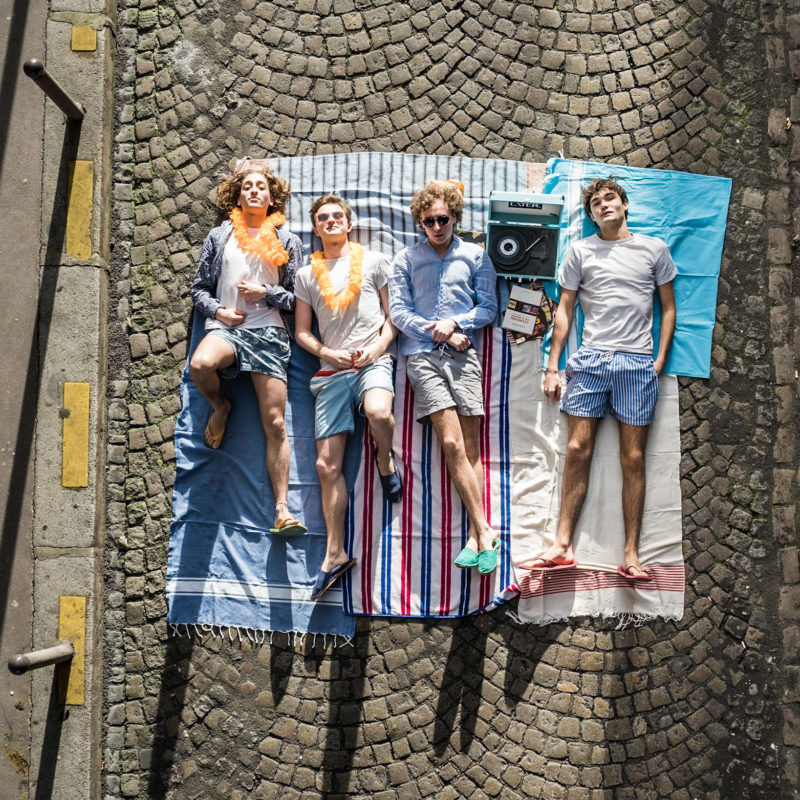 Later. is a band from Paris, composed of 4 members, influenced by indie, pop, jazz and more. First revealed on Kitsuné Musique with "L.Y.E", they have just released their debut EP "On Time" via Cookie Records. We asked them a few questions to discover their universe and know more about this release!
How and when did the project Later. start?
The band was formed in late 2018 at a café in Paris where Paul (guitarist, bassist), Noah (produce and mixing) and Théo (pianist) decided to start a band called Later. It is only later, when "L.Y.E", our first single which was at the time titled "ID 1" (as for "Idea number one"), was only a demo and needed a voice, that the singer (Charles-Marie) joined the band. What started out as an opportune collaboration ended up being the start of the four-sided band.
How would you describe your music universe in a few words?
Relaxing, somehow cheerful, but also kind of nostalgic.
Can you explain us how the collaboration with Cookie Records started?
It started when we signed our second single "Don't U Know" with them. We wanted to have an overlook on the parisian labels and the upcoming label Cookie Records seemed very interesting for the newly formed band we were. Since then, we signed a whole EP 'On Time' with them and their implication has been more than what we could have expected.
Do you have projects of collaborations with other artists in the future? Maybe with artists from Cookie Records ?
Yes we have some ideas and projects in mind, maybe with British band Patawawa, nothing sure yet but we remain very open to collaborate !
Are you playing live shows? If yes, are there any planned in 2020?
Yes we're working on it! We have some propositions and some coming very soon but until we're 100% ready for it, we won't make any announcement!
You released your debut EP a few weeks ago, what was the creative process behind it? Are you happy with the response so far?
As it was our first project, we had no pressure in making it and we only wanted to give a sort of preview of our musical universe. We wanted something modern but also tied to the past, like a memory of a past vacation people could go back to. Something like a break from daily turbulences. And yes we're very happy with the response ! Whether it comes from friends, strangers or press we have a lot of positive feedback!
What is your top 3 songs at the moment?
Well, we all listen to different kinds of music but we have some songs we all agree on and listen to on repeat today such as 'Cherry' by Jungle, 'Pointless' by Dune, Crayon and Ichon or even 'The Bird' by Anderson .Paak.
Can you tell us a funny anecdote about the band?
We were asked to give some visual content in order to promote the EP, so we came with this concept of building a sort of 'artificial beach' on a sidewalk in Paris, too bad we got this idea in January when it was freezing cold outside and we ended up in the middle of the street in our swimsuits with people wondering what we intended to. We also had to carry a whole plant with us from Noah's place to the location where we took the photos, people were really looking down on us but we had a great time !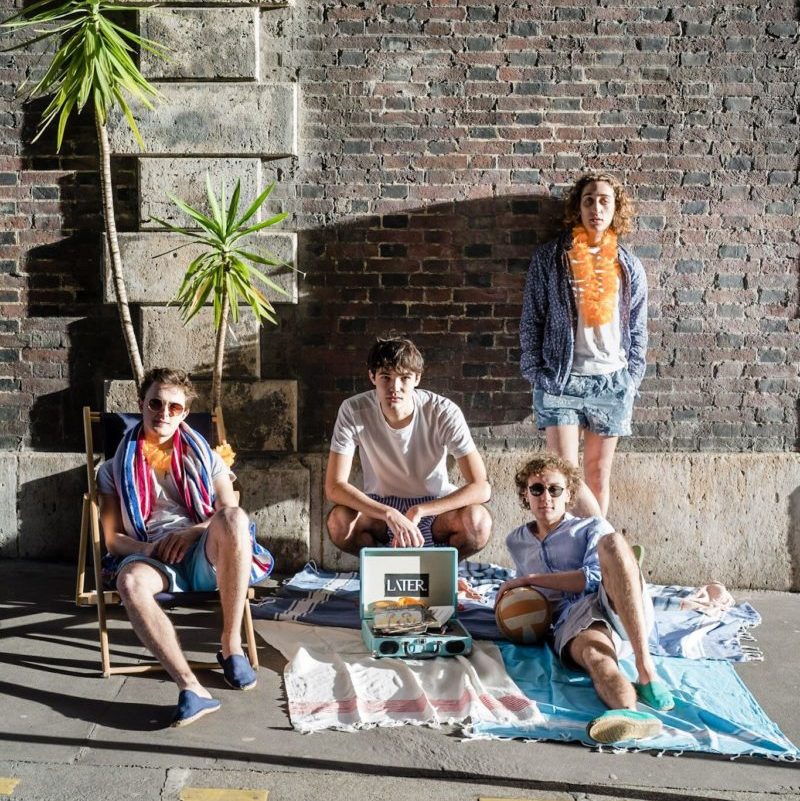 Anything to add to conclude?
We're very excited about 2020 and have a lot of ideas and projects coming up! Stay tuned and thank you for the interview!
Thanks to Later. for answering our questions! Follow them on Facebook, Instagram, Soundcloud and listen to their EP "On Time" here.