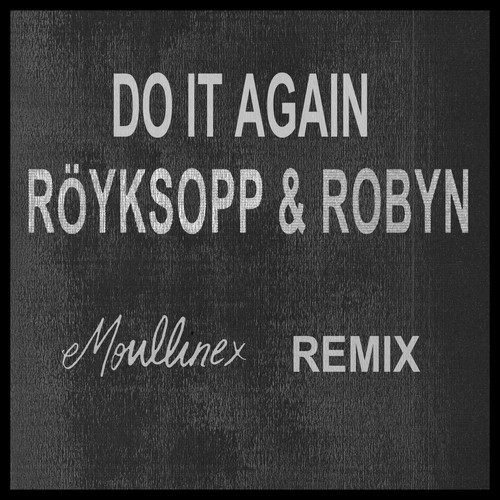 I'm writing less and less articles about remixes, as there are a lot coming out all the time. But when I heard this one, I just thought I had to write about it!
Royksopp is collaborating with Robyn to release a mini-album called "Do It Again", featuring 5 tracks and out on May 26th. This is what the band says about it:
"This 5 track mini-album is the accumulation and embodiment of the synergy between Robyn and ourselves. We've intended this to be a diverse yet cohesive and thought through musical venture; it's meant to be an expression where pop & art reign side by side." (Röyksopp)
Portuguese producer Moullinex is on the remix duty, and as usual, he did a great job, we can really recognize his touch! You can also check out In Flagranti's remix, and the tour dates below.
'Do It Again' tour dates below, more info here:
June 13                        Sonar Festival (Spain)
June 14                        Northside Festival (Denmark)
June 26                        Marymoor Park (Seattle, WA, US)
June 28                        Bill Graham Civic Auditorium (San Francisco, CA, US)
June 29                        Hollywood Bowl (Los Angeles, CA, US)
July 18                         Melt Festival (Germany)
July 19                         Latitude Festival (UK)
August 8                      Øya Festival (Norway)
August 9                      Way Out West Festival (Sweden)
August 15                    Pukkelpop (Belgium)
August 20                    Pier 97 (New York, NY, US)
August 21                    Wolftrap (Washington, DC, US)
August 22                    HB Pavilion (Boston, MA, US)