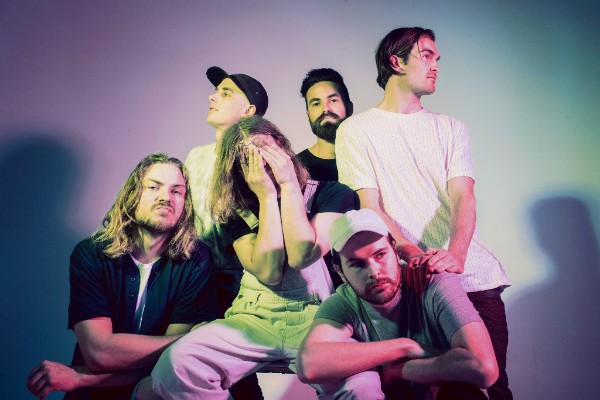 After more than 21 million collective streams across debut album "Sponge Cake", Sydney six-piece Winston Surfshirt have revealed a remix EP featuring Roy Davis Jr, Mookhi, Karizma… While they are currently touring in Europe, we have asked them a few questions about their story, live show and future projects.
Hello guys! To begin, can you remind us how and when the project Winston Surfshirt started?
It started as the solo project about 7 – 8 years ago now, before adopting other local artists and producers to form what is now – a musical collective. About 5 years ago I met Bustlip and he starting jamming with me and my best mate Mi K around town in Sydney. Over the past five years it gradually grown into the current six-piece.
Receiving support from Elton John was probably a major milestones for you. Can you tell us more about how it happened?
Might possibly be the only milestone. I was born, then met Elton John. It's still a bit of a pincher really, can't believe he's even heard me name, let alone likes the music. He's just the nicest human alive. He doesn't need to meet us and tell us that he thinks we're making good music. He's Elton John, but he goes out of his way to do so. Having someone like that tell you you're doing the right thing is a huge incentive to feel like you're on the right path in life.
You have collaborated with artists such as Cosmo's Midnight and Polographia. Do you have other ones planned? What do you like about this kind of collaborations?
There's a couple cheeky things in the pipes. I love doing songs with other people. I'm so used to sitting at home and putting all my energy and concentration into making the music sound EXACTLY the way I want it, so to be able to listen to a song and just think about the lyrics is really enjoyable for me.
You have just released a remix EP featuring Roy Davis Jr, Karizma, etc… How did you select these remixers?
We didn't select, we sent a big list of names we'd "love" to remix a song but some were obviously completely unattainable. I thought Roy Davis Jr was a joke of a stretch so when we got a remix from him I nearly died. Really happy with how it came out.
You'll be playing in Europe in May, is it your first time there?
Some of the boys haven't ever been to Europe which will be been fun for me. I'm originally from the UK so it's gonna be fun to show them round. It's ridiculous that we can come here to play music.
What can we expect from these live shows? What is your setup?
I sing live, we've got Dool on the Keys, Bik Julio plays Bass, Mi k on the geets, Bustlip hits the pads and The Bone plays the Bone. Not the Saxophone. The bone. Not a Trumpet. The Bone, which is short for a trombone. He plays the Trombone. Not the trumpet or saxophone. And it's not a French horn its just your regular everyday trombone.
What are your projects for the future?
We're looking for a trumpet and sax player. Nai nai. Just more musics coming at your ears!!!!
Thanks to Winston Surfshirt! Follow them online:
Website | Facebook | Soundcloud | Instagram