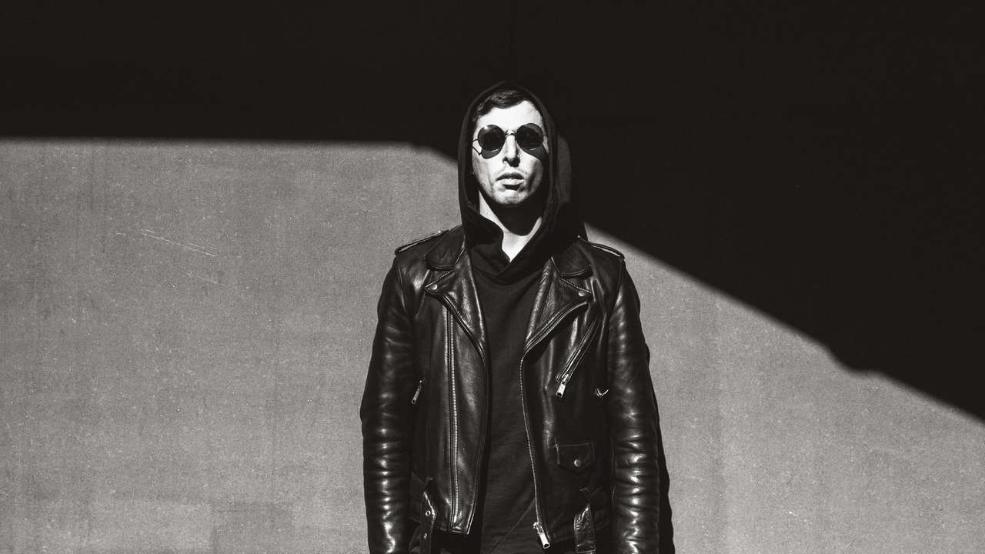 You probably know "Fade Out Lines" by The Avener, that we hear more and more and don't get tired of. Good news if you like that song: The Avener is releasing an album with other excellent songs in the same vein: "The Wanderings Of The Avener" is out this Monday, January 19.
I had the opportunity to meet The Avener, aka Tristan from Nice, in Southern France. We talked about the success of his single, his career in music, his album and projects. Enjoy, and don't forget to play the playlist below to discover his latest songs.
Hi Tristan, how do you feel a few days before the release of your album? Are you happy to introduce it to the media?
This album is my "baby", it's the culmination of one year of work. It comes out in four days, I have a lot of nervousness, waiting to know what the public will think. It's looking good with the return of the first pieces that were revealed, I am very happy at the moment! I get a lot of support from the public and journalists, so it's a good pressure.
You've been producing music for ten years, what types of project did you work on?
Absolutely, at first I was DJ under my name, Tristan. I was resident DJ mainly the Nice area, where I come from. Let's say I've been in the house music for ten years. Today is the culmination of all those years. It takes time to find yourself an artist and producer, and I really found my niche, the one that I like most.
You were already in this genre, house music?
Yes, I started mixing on vinyl at 16. My first records were the ones of Masters at Work, Defected In The House, things like that, I was really into house music. Then I evolved towards progressive house but it was a brief period, about 2-3 years. I had this desire to play in stadiums, which is only possible with EDM, but I've realized that this music was not made for me.
In 2012, I decided to go back to basics: mix house with very diverse influences. As a resident DJ, I was playing very different things: house, soul, funk, disco classics hits. I mix house with pieces of the past, it's the guideline of the album. I gave a little modernity to tracks that people don't know or that they will re-discover. It is the overall project: find myself with my influences as a composer, musician.
Your album is mainly composed of reworks, how did you choose the songs?
These are some favorites that I had on my computer, that I could not play as a DJ. In my spare time, I began to make edits to be able to play them in my sets. The first draft was precisely "Fade Out Lines", the idea is to mix soul, blues from house to dance. The album highlights this way of working that I put aside for years because I wanted to do pure electro music with machines.
I wanted to move on add more feelings in electronic music. To do so, acoustics must be added. I do not necessarily have the means to bring musicians so the best way was to sample and rework songs. The album contains 80% of reworks. There are forgotten pieces, some unknowns, more or less recent … It's an eclecticism that I wanted to put forward. My goal was to boost these pieces, like Moby, Saint Germain or Daft Punk on Discovery.
This is an album that looks like me, with collaborations that I am very proud of, especially Jon Lee Hooker, Rodriguez, Andy Bey.

So you already had the songs of the album for some time?
Yes, about a year passed between the release of "Fade Out Lines" on 96 Musique and the success that we know today. So I continued my work in my studio between my DJ sets. I worked on the album in Asia, Nice and Paris. It was a kind of trip where I enjoyed myself. When I was offered to release an album, I already had a number of songs to offer.
For collaborations, did the success of "Fade Out Lines" help you to approach the artists you wanted to work with?
Of course, when the song began climbing the charts overseas, the collaborations have facilitated. Success helps a lot to make an album, especially for reworks. There are collaborations which I did not expect at all, like Rodriguez.
As you say, you are part of the deep house scene, do you have any artists that you feel close to?
Yes, we go hand in hand with Synapson. I love what they do, it's a bit more jazzy than what I do, less melancholic. It was kind of the same way of working, playing, we get along really well musically. We will play 5 or 6 times together before the summer. I think they are extraordinary artists with highly developed musical sensibility, who I put a lot during the year. They are also working on their album.
And can you tell us more about the artists invited to the party at Showcase on January 24?
There will be Chopstick & Johnjon, I've always been a fan. They did a remix of "Fade Out Lines". It seemed natural to invite them are they are very special producers. They evolve with current music, they do not lock with style. They are free in creation. And there will also be Kiwi, it's another style, it will be great to end the night.
This party is an opportunity to celebrate the release of the album. I'll play much songs from the album and I prepared new re-edits. I am very happy to play at Showcase, in my opinion it is the best club in Paris. We feel good there, the place is great.

And then you're going to tour?
Yes, in fact I'm already on tour since November. I play a lot in Germany, Switzerland, France of course and I'm starting to play in Italy. It is expected in the coming months touring a little further. And this summer I'm going to play some festivals.
I am preparing a live show, I hope he will be ready for this summer. The idea is to do a very dynamic DJ Set with a visual background. Later, I'd like to prepare a  live that looks like a concert with musicians, singers of the album …
After the release of the album and all that follows, how do you see the continuation of your career?
I make music with passion, my passion is to share my music quite simply. If it pleases the better, I will be very happy. I leave the choice to the public, their tastes will say the future. I am very happy with the album anyway, I'm very proud to have created this project. Music is very random, we must remain vigilant and patient.