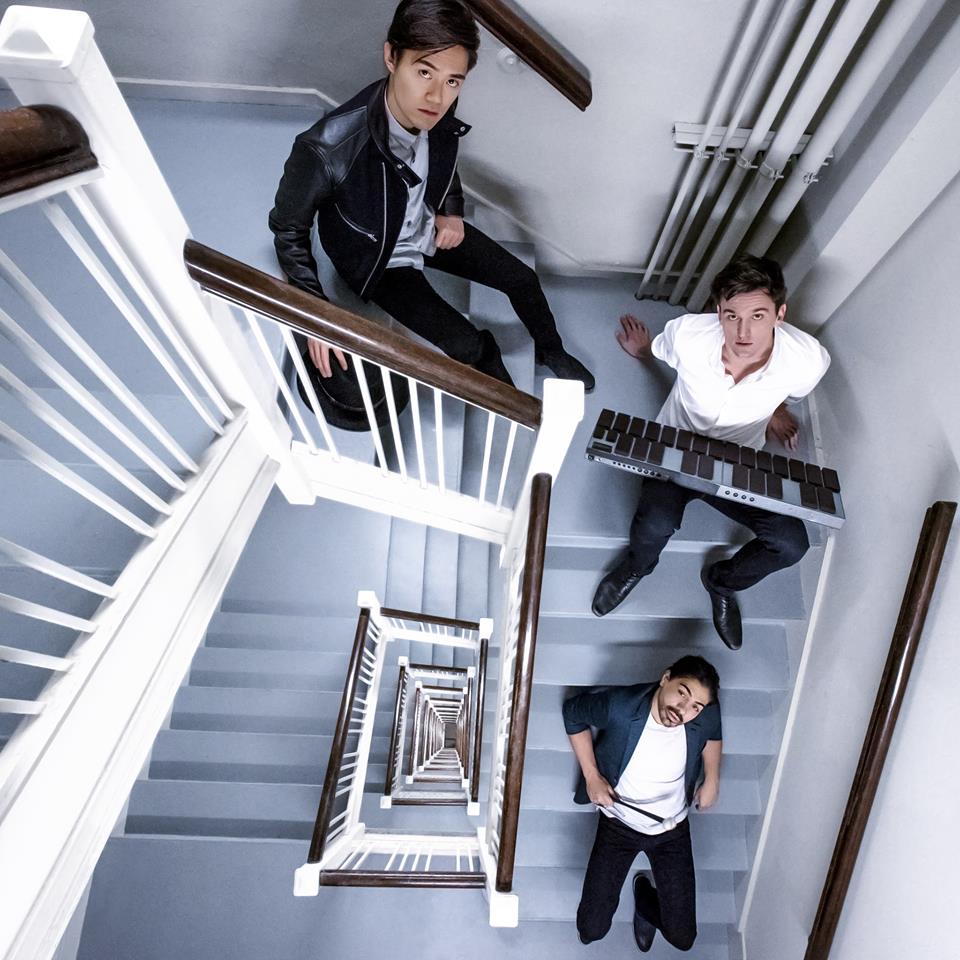 Autograf is a trio from Chicago (composed of Jake, Louis and Mikul), who have first been revealed with their remix of Marvin Gaye's song "Grapevine" about 2 year ago. Since then, a lot has happened for them: several successful remixes, including official ones for Fatboy Slim and Odesza, the release of original songs, their signing to Counter Records, shows in the US, Brazil, India… and Europe this month, before hitting Asia.
I had the opportunity to meet them before their show in Paris last week. As I've been following them for a long time and love their music, it was great to finally meet them, and I had lot of questions about their project and plans for the future.
How and when did the project Autograf start?
We started about 2 years ago. Initially, we started out as a visual art project, we were each doing our own thing and Mikul and Jake had background in art but were not really using it. So we wanted to think of the project as a creative outlet. We started to make art pieces, eventually making music and music took over.
One of your first remixes was for Marvin Gaye's song "Grapevine". Why did you choose this song?
Jake was in a dinner late at night after being out, like 4 in the morning and that song came on. He just wondered if there was an accapella, then he found high quality ones and that's how we started to work on this remix. We almost forgot how the original sounds like, we got so used to our remix, it's very different!
What was your approach to choose the songs you remixed after that one? 
In the beginning, it was us trying to make cool sounds with songs we liked. Later on, when we had more success, we had more and more people coming at us to request remixes, and we could just choose the songs we liked.
You quickly had some success with your music, with songs charting #1 on Hype Machine and many articles on influential music blogs. How did you make that happen?
Hype Machine probably helped the most. I think our 3rd song hit number 2 on Hype Machine, and several of the next ones reached the top 3. That's how everyone knew us, and it got easier to share our music. At the beginning, we didn't know anybody and had no money for promo, so we were just meeting bloggers, writers, DJs, sending our music regularly.
You started to release original songs, with art pieces made by yourselves. Who is creating them? Why did you wait to release these songs?
Mikul does most of the art. We are all involved in everything, whether it's music or art, but one person usually takes the lead role to start something.
We've been making a bunch of originals, we got like over 10 of them. We've just been filling it up and now we're trying to figure out how we want to release. We didn't want to put out a song out as soon as we finish working on it, we want to be more thoughtful.
Do you have music video projects?
When we were in Brazil, we met the guys from Music Motion, they took us around and they had this awesome videographer. We've made a kind of music video documentary there, and we invited him in Paris to shoot a music video. We'll start to shoot it here, then in Amsterdam, and finish it in Brazil.
Sounds great! Is there already a concept behind this video?
Yes, we're gonna be walking around with picture frames, containing animated designs. It will be one of us travelling through the world, creating art and sharing art to the world.
You just signed with Counter Records, how did that collaboration happen?
They got in touch after we remixed Odesza. Odesza sent us a message on Twitter, asking us to remix their song "All We Need". Their label, Counter, discovered us from this remix.
What are your plans after the European tour?
We are going to Asia, to play in a cruise festival! I don't know if you have it in Europe, but we have Holy Ship in the US, it's kind of similar. The one in Asia is called It's the ship, it will go from Singapore to this island called Langkawi.
What's your live setup?
We were thinking about what to do with live shows. Jake grew up playing several instruments: drums, piano, guitar… We were thinking about piano but everyone is playing piano live.
Marimba was more original and Jake played it in a band in high school. We started that like 9 months ago. We hope to inspire the whole world to start playing the marimba. Some artists are actually interested, like Felix Jaehn, who wants to try to play the marimba after seeing our live videos. We also do the hand drums and djembé.
https://www.youtube.com/watch?v=bP5NAhThbHI
You just released a new remix for Faithless, which sounds different from your previous ones, darker and deeper. Did you want to experiment new sounds?
If you look at all our songs, we experiment a lot. Take the one for Griz for example, it's very funky, with heavy breakbeats, it's different. We're just trying to push the boundaries and do something different.
We want to take the same approach as for art pieces: if you're not trying a new technique as an artist, not pushing the boundaries of what you're doing… it's not what art and music are about. It's risky, many artists make their songs sound like their most popular one to avoid taking the risk of disappointing their fans.
Follow Autograf on Facebook, Twitter, Soundcloud, and check out their tour dates!