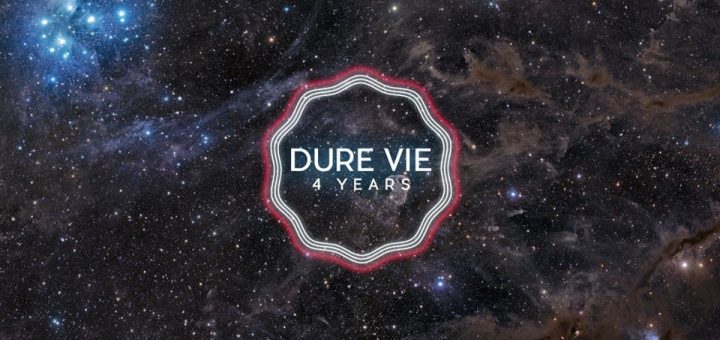 [contesthopper contest="10887″]
Quatre ans déjà que Dure Vie propose des projets gravitant autour de l'univers des musiques électroniques avec des contenus multimédias sur un magazine en ligne d'actualités électroniques, des événements à Paris, à Lyon, à Londres et à Berlin, une programmation musicale dans le bar à cocktails et mini club le Panic Room, de la production audiovisuelle…
Afin de célébrer cet anniversaire, la famille vous invite à un voyage lunaire au Badaboum le samedi 7 janvier, date à laquelle vous aurez déjà oublié toutes vos bonnes résolutions.
Dans une logique de promouvoir la scène électronique naissante, ce sont deux étoiles montantes qui seront présents avec le lyonnais FOLAMOUR et le londonien DEEJAY ASTRAL. En dj résident Dure Vie, le jeune cosmonaute parisien AKIL prendra les commandes du club en warm up pour un décollage en douceur.
L'atmosphère sera assurément planante à mi-chemin entre l'espace et l'amour pour une expédition direction l'extase…
• MUSIC •
● FOLAMOUR (Lyon • Moonrise Hill Material / D.KO Records)
RA • residentadvisor.net/dj/folamour
FB • facebook.com/folamourmusic
SC • soundcloud.com/folamour
● DEEJAY ASTRAL (London • Shall Not Fade / Unknown To The Unknown)
RA • residentadvisor.net/dj/deejayastral
FB • facebook.com/deejayastral
SC • soundcloud.com/deejayastral
● AKIL (Paris • Dure Vie / Rakya)
FB • facebook.com/akildjparis
SC • soundcloud.com/akilfr
• INFOS •
BADABOUM • Cantine de quartier, Concerts détonants, Dancefloor agité, Cocktails maison et Snack revisité… Amour à toute heure !
Cantine / mar-ven 12:00-15:00
Cocktail Bar / mer-sam 19:00-02:00
2 bis rue des Taillandiers – Paris 11e
M°Bastille ou Ledru Rollin
• TARIFS •
Prévente 12e • Entrée sur place 15e
Réservation table ▸ club@badaboum.paris
Dés 19h00 l'accès au Cocktail Bar est gratuit sur reservation ▸ bar@badaboum.paris

Comments
comments