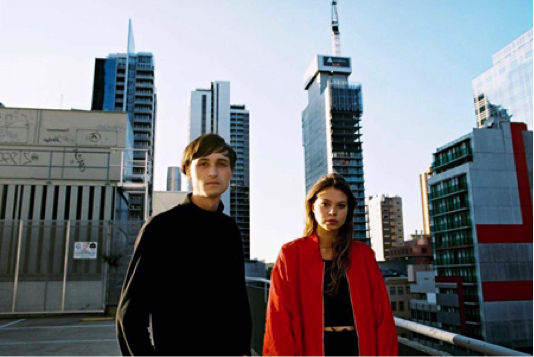 Let me introduce you to Kllo, a duo from Melbourne, who released this summer an excellent EP called "Well Worn". Influenced by UK garage, R'n'B and underground dance music, the band manages to create their very own atmosphere, built around Chloe Kaul's sweet voice.
Currently on a huge tour in Europe and the US , the duo took the time to share with us their Top 5 New Aussie Music' playlist, explaining why they have chosen each of these tracks. I admit I didn't know any of these artists and really enjoyed discovering their suggestions, I hope you'll feel the same!
The band will play on November 3 at PIAS Nite in London and in Paris on November 10. Check out all their tour dates on Songkick!
Planete – 'Nightcrawler'
Dion has been releasing quality house music for a long time now, though we love the direction he's been taking it since 'Altair.' The use of more lofi melodic motifs and broken breaks is the perfect next step for his pallette, which sits beautifully alongside his more ethereal soundscapes of previous tracks.
Jack Grace- 'All Lost'
All Lost is one of our favourite songs to come out this year. It's simplicity in the production along side the simplicity in the melodies and lyrics is refreshing to hear. A song full of subtleties and honesty that makes us feel sad and nostalgic.
Christopher Port – 'Even'
Chris is one of those talents which has been closely appreciated by the people who know him, but now that he's been pushing his music under the fantastic Pieater label the wider world is now becoming aware of his skills. Chris makes a brilliant combination of old school garage fused with euphoric dance elements. Stuff that lifts the mood of a club. The track we really want to write about is an unreleased track sitting on our USBs, but this track is the closest thing for now. We think this new track is going to go really far, be sure to keep him in your sights.
SILENTJAY- 'The Glyde'
A multi instrumentalist/singer/beat maker from Melbourne. He just released an incredible mixtape full of many treasures he's been holding onto over the last couple of years. Here's one from the twenty eight track sequel
Fortunes – '501s'
Conor's stunningly husky and emotion centred vocals accommodated by the extraordinary hip-hop groove in Barnaby's production truly is a special combination. Only a matter of time until these guys get the recognition they deserve.
Also make sure to check out Lone's new remix for their track "Bolide":